EP Monthly - By Neel Vibhakar and Amal Mattu - October 1, 2015
"The University of Maryland Low Probability ACS Protocol (at the bottom of the page) is used for patients that are, based on the initial history and physical, to be at a reasonable but low risk for ACS. Note that if the patient's presentation is judged to be un-concerning for ACS (by clinician gestalt), then this protocol is unnecessary. A positive troponin at any time is not appropriate for this guideline.
The guideline was incorporated into clinical practice in the University of Maryland Emergency Medicine System in February 2015, and anecdotal feedback from the medical directors at each hospital has been that there has been a reduction in chest pain hospitalizations without known major adverse cardiac events. One of the busiest EDs reported a 22% reduction in patients placed in observation status. Informal surveys of patient satisfaction with this protocol are positive. We feel this combination of tools not only reduces the number of hospitalizations, but also helps emergency physicians determine which patients are most appropriate to discharge and provides excellent medical decision-making that can be documented within the medical record. Physicians and risk managers have been extremely happy with the potential legal protection that the protocol affords. We would encourage others to implement a similar protocol to help define a new, evidence-based and sensible approach to the management of patients with low-risk chest pain."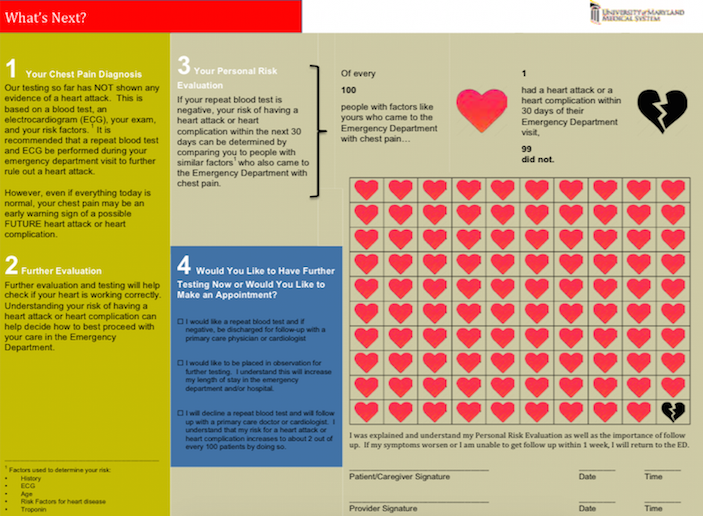 http://epmonthly.com/article/beyond-heart-building-a-better-chest-pain-protocol/