emDocs - september 28, 2016 - Authors: Billington M and Arnoldo B
Edited by: Simon E & Koyfman A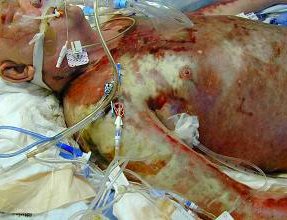 "Summary
In treating a burn patient:
Follow ATLS guidelines in the initial evaluation and resuscitation of the burn patient, with special attention to unique

airway considerations

.
Evaluate the patient for signs of

toxic exposures

, particularly carbon monoxide and cyanide.
The burn patient requires

comprehensive care

. Follow ABA guidelines when considering transfer."