EM Resident - June 10, 2018 - By Glick J , Orloski C, Hallisey S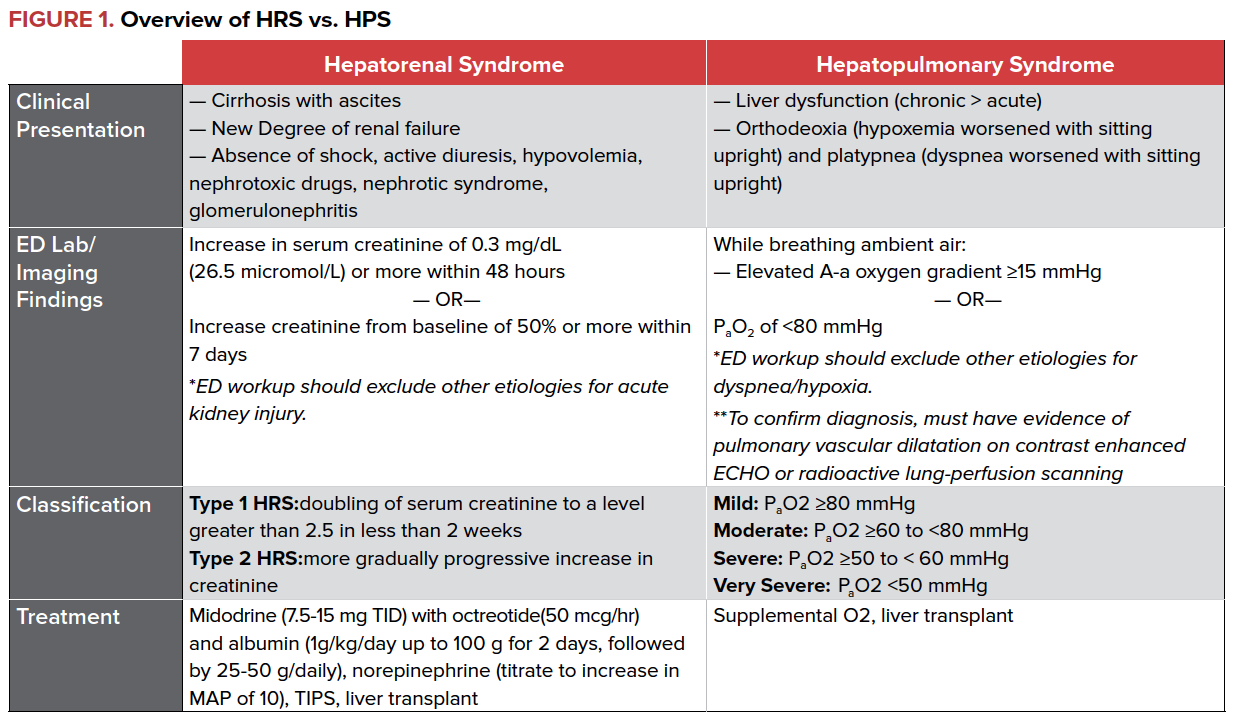 "Hepatorenal and hepatopulmonary syndromes can be easy to diagnose in the ED, and proper management can significantly impact morbidity and mortality downstream.
One of the top 10 leading causes of death in the United States, cirrhosis is defined as the end result of progressive hepatic fibrosis, most commonly due to infection (viral hepatitis) or long-term alcohol use. Cirrhosis is characterized by the progressive destruction of the underlying hepatic architecture, followed by the eventual loss of intrinsic function and an increase in portal venous pressures. Chronic increases in portal pressures lead to the majority of emergent complications due to cirrhosis, such as variceal bleeding, refractory ascites, hepatic encephalopathy, and spontaneous bacterial peritonitis (SBP). These conditions are frequently the cause for ED presentation, and standardized management guidelines are well-established.
While many of these complications are widely known and frequently recognized in the ED, hepatic dysfunction and increasing portal pressures can have additional effects on several other organ systems. These interactions, namely the hepatorenal and hepatopulmonary syndromes, can be easily diagnosed by initial clinical exam and laboratory findings. Prompt recognition and treatment of these conditions from within the ED can have a profound downstream impact on morbidity and mortality. This article will review these conditions and highlight key management strategies to streamline and improve downstream evaluation and
care..."