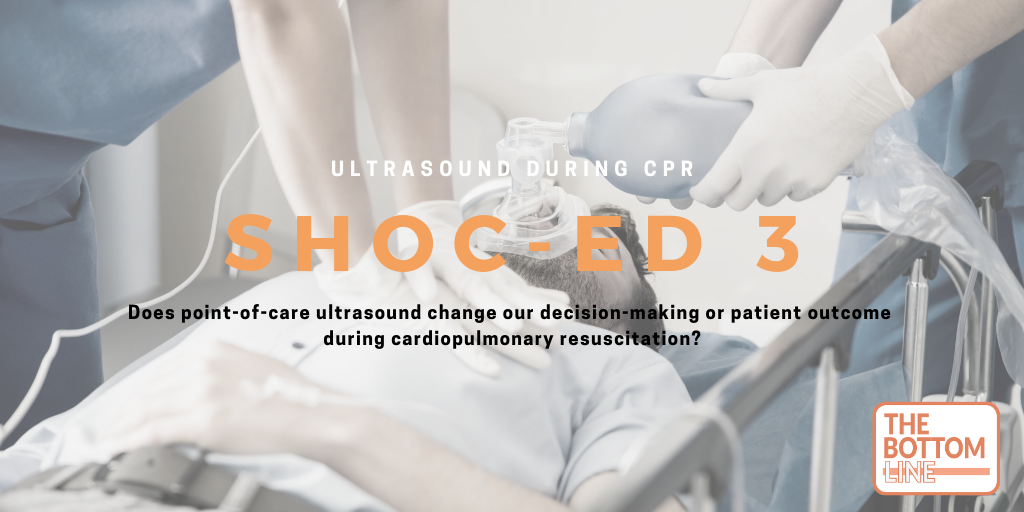 The Bottom Line - 3 May 2019 - By Adrian Wong
Does Point-of-care Ultrasound Use Impact Resuscitation Length, Rates of Intervention, and Clinical Outcomes During Cardiac Arrest? Atkinson RP et al. Cureus 11(4): e4456. DOI 10.7759/cureus.4456
"Clinical Question
In patients presenting to the Emergency Department (ED) in cardiac arrest, does a standardised point-of-care ultrasound protocol, compared with usual care, affect the length of resuscitation, frequency of interventions, and clinical outco
mes?
Authors' Conclusions
Patients with cardiac activity on PoCUS received increased resuscitative effort and had improved clinical outcomes as compared to those with negative findings or when no PoCUS was performed.
The Bottom Line
The fact that pts with cardiac activity visualised on POCUS received longer resuscitation attempts, more interventions and had a higher rate of ROSC is unsurprising

The reverse is also unsurprising as the decision to terminate or stop intervention is a self-fulfilling prophecy

Despite higher rates of ROSC in pts with cardiac activity on POCUS, the rate of survival to hospital discharge falls to that of pts who received no POCUS

I will continue to use POCUS during the management of cardiac arrest but priority remains good quality chest compressions and resuscitation

Further testing by prospective trial as this study is a) hypothesis generating b) has biological plausibility and c) health economics and d) safety relevance"