emDocs - May 31, 2019 - By Avila J
Due to the lack of large clinical trials evaluating the treatment of SVT, much of the literature relies heavily on expert consensus.

Traditional treatment involves NSAIDS and stockings. This treatment is still recommended by most for SVT's <5cm in length and >3cm from the SFJ. (Cosmi 2015)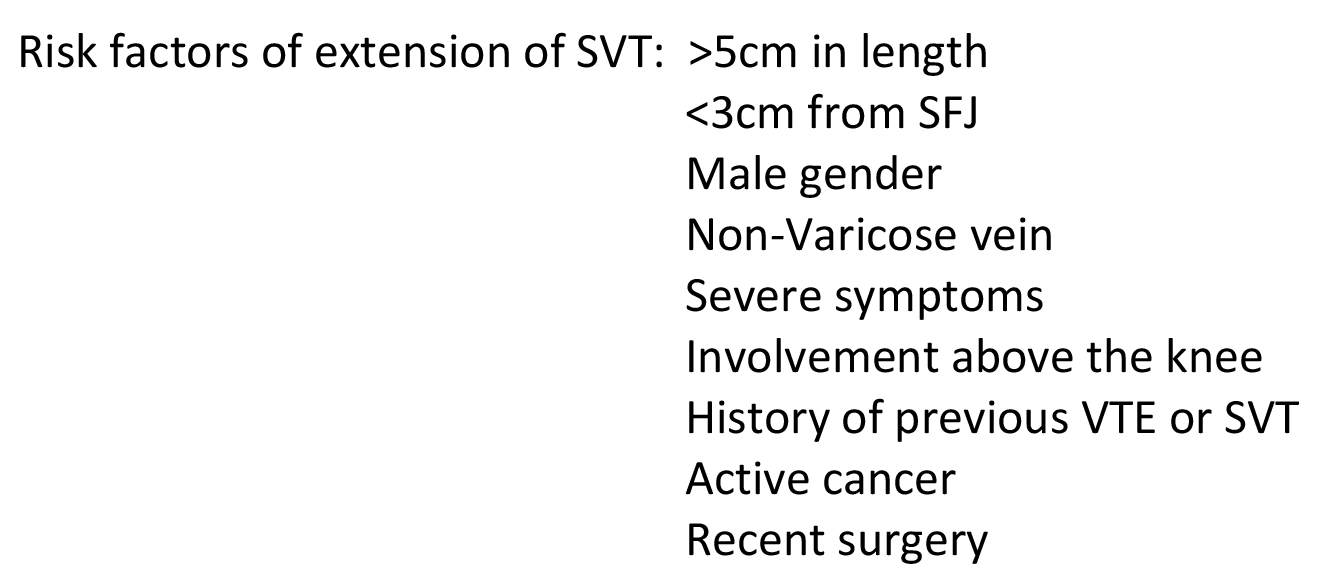 2012 ACCP guidelines suggest that patients with SVT > 5 cm can be treated with prophylactic dose of fondaparinux or LMWH for 45 days. (Guyatt 2012)
This recommendation was largely based on the CALISTO trial, which randomized 3002 patients with SVT to get either fondaparinux or placebo and reported that the rate of PE or DVT was 85% lower in the fondaparinux group (Decousus 2010)
SVT within 3 cm of SFJ is considered by some to be equivalent to DVT and can be treated as such (Cosmi 2015)
Topical NSAIDS may help symptoms and can be used at the same time as anticoagulation (Kearon 2012)

There is no literature supporting or refuting using the same treatment in the evaluation of upper extremity SVT.

If an SVT is uncovered in the lower extremity, a bilateral duplex ultrasound evaluating the deep venous system should be considered.
SVT >5cm or <3 cm from the SFJ should be treated with anti-coagulation.

The rate of concurrent DVT and PE in patients with SVT is 25% and 5%, respectively.